He's back!
Actually, he never went away. But now, former President Donald Trump is once again the clearly dominant figure on the American political scene, far eclipsing everyone else, including the sitting President.
On Thursday night, he made a long-awaited return to CNN, the lion's den of what he calls "fake news," for a primetime townhall broadcast live from New Hampshire. Moderated by Kaitlan Collins, the forum offered the former president a chance to address a wide range of issues, take questions from voters, and perhaps most importantly, demonstrate that he remains the 800 pound gorilla of the Republican Party.
It began with a discussion of the 2020 election results. Collins challenged Trump on his claims that the race was "rigged," but Trump held firm that it was not a truly fair election. Indeed, Meta's Mark Zuckerberg pumped $400 million into key states for drop boxes, get out the vote operations, ballot harvesting and other activity that heavily favored Democrats. Just weeks before the election, the FBI worked with Twitter and other social media companies to suppress the New York Post's factual story of Hunter Biden's laptop, and all of the evidence of Biden family corruption on it. At the same time, 51 current and former intelligence officials signed a letter falsely claiming the laptop was "Russian disinformation." And the pandemic allowed for the expansion of mass mail-in voting, early voting, and relaxed signature verification standards, opening up at the least the possibility of abuse.
While Trump didn't get into many of these specifics, they're the kinds of machinations that swayed the election.
When asked by a voter if he would "suspend polarizing talk" of election fraud during the current campaign, Trump replied, "Let's just win it again and straighten out our country."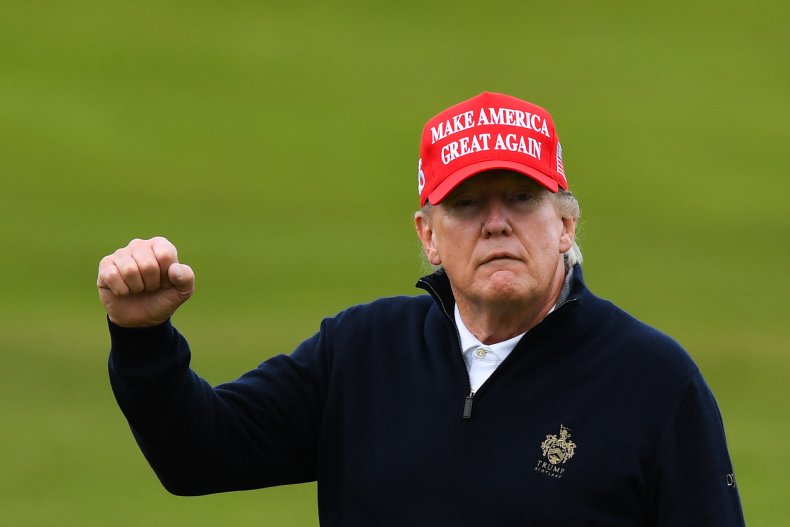 Turning to the events of January 6, 2021, Trump referred to his tweets that day encouraging peaceful protests, respect for law enforcement, an end to the violence, and a dispersal of the crowds—tweets which were removed by Twitter. He also placed the blame squarely on former House Speaker Nancy Pelosi and Washington D.C. Mayor Muriel Bowser, who were responsible for Capitol and District security.
"I offered them 10,000 soldiers... if they would have taken 500 soldiers, we wouldn't have the problem," Trump said. "They turned it down. And if you look at the Inspector General report, he says they turned it down. They made a terrible mistake," he said.
He also indicated a willingness to pardon "many" January 6 defendants, saying the non-violent protesters have been "persecuted" by the Biden administration, while many violent Black Lives Matter and Antifa protesters were not prosecuted at all.
"I'm not trying to justify anything, but there are two standards of justice in this country," Trump added, to vocal approval from the audience.
Trump offered spirited pushback on his myriad legal issues, including the classified documents and Georgia election cases, and the indictment brought by a New York grand jury. In all instances, his actions were legal and correct, he said, reinforcing his longstanding—and accurate—position that he's been subjected to endless "witch-hunts" intended to destroy him and his candidacy.
On policy, Trump blasted Biden's anemic economy, open border catastrophe, disastrous withdrawal from Afghanistan, and endless support for the Ukraine war. He also strongly defended the Second Amendment and argued for more effective attention to mental health, demurred on a national abortion ban, and called for a return to U.S. energy independence, a critically important feat he achieved as president.
Throughout, Trump was Trump, batting away questions in his signature rapid-fire manner and deploying his quick wit. He appeared relaxed and in command, so it's no wonder that his haters went into total meltdown.
New York Congresswoman Alexandria Ocasio-Cortez for example tweeted that "CNN should be ashamed of themselves. They have lost total control of this 'town hall' to again be manipulated into platforming election disinformation, defenses of Jan 6th, and a public attack on a sexual abuse victim. The audience is cheering him on and laughing at the host."
All of which is to say, Trump crushed it and everyone knew it.
Having spent the last eight years trying to destroy him, they can't believe he's not only still standing; he's the leading Republican candidate for president by far, and at least even money to be re-elected President.
After the townhall, CNN's John King lamented Trump's "plausible path to winning again."
It's not just plausible; it's likely.
Buckle up.
https://www.newsweek.com/hes-back-cnns-townhall-proves-trump-once-again-dominant-figure-american-politics-opinion-1799661