Biden Taps Economist Who Bemoaned Gas Prices 'Too Damn Low'
Jared Bernstein's comments could hurt his chances at Senate confirmation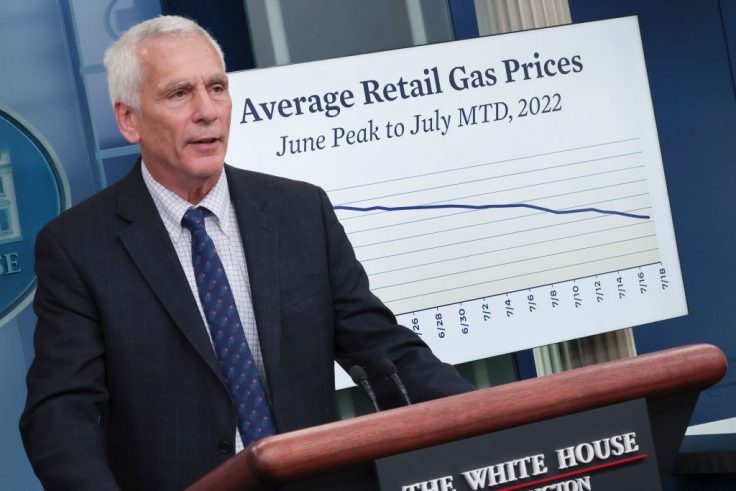 High gas prices have been a nigh
Jared Bernstein, Biden's nominee for chairman of the Council of Economic Advisers, lamented in 2015 that gas prices were "too damn low." Bernstein, who was writing at a time when gas cost $2.09 per gallon, asserted that "seriously under-priced" fuel costs had "scary" consequences for the environment because they stoked demand for fossil fuels. He suggested a gas tax hike, even as he acknowledged that low prices at the pump help working families.
Bernstein could soon have a prominent role in shaping Biden's economic policy at a time when many Americans list high energy costs as one of their top concerns. Just 36 percent of Americans give Biden a positive rating on the economy, according to recent polls. A major contributor is a dramatic increase in the price of gas, which increased from $2.42 per gallon when Biden took office to $3.61 last week.
The Senate Banking Committee will vote Thursday on Bernstein's nomination. If confirmed, Bernstein will oversee the three-member council, which is tasked with advising the president on "economic policies that advance the interests of the American people."
Sen. Tim Scott (R., S.C.), the ranking member of the Senate Banking Committee, and other Republicans oppose Bernstein because of the economist's comments on fossil fuels and support for Biden policies that they say have contributed to inflation. Bernstein, already a member of the Council of Economic Advisers, has been credited with driving the White House message that inflation was "transitory."
Bernstein's support for expensive gas seemingly puts him at odds with Biden, who has blamed oil companies, Russia, and even "MAGA Republicans" for higher fuel costs. When gas prices have decreased, Biden has tried to take credit, bragging last year that gas prices have "fallen every day this summer for 38 days in a row" because of his policies.
Bernstein's fate could lie in the hands of moderate members of the Senate Banking Committee. Sens. Jon Tester (D., Mont.) and Kyrsten Sinema (I., Ariz.) have voted against other progressive Biden nominees. They blocked Saule Omarova, Biden's nominee for comptroller of the currency, over her calls to regulate the banking industry. Omarova said she wanted to "starve" oil companies of funding to fight climate change.
Tester and Sinema have not said how they will vote on Bernstein. They did not respond to requests for comment.
https://freebeacon.com/biden-administration/biden-taps-economist-who-bemoaned-gas-prices-too-damn-low/