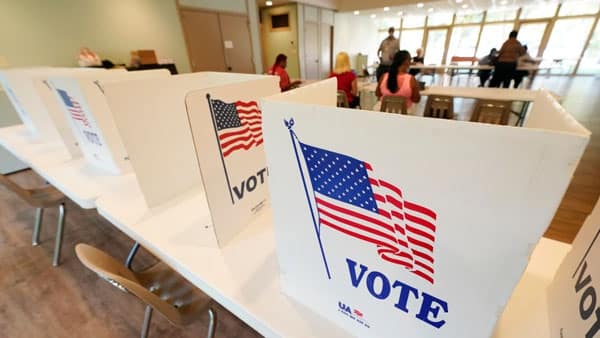 One has to wonder how often the mainstream media pollsters are willing to be wrong — and how much longer Americans will listen to them.
---
Some new polls indicate President Biden and the Democrats are in trouble – and their strategy for the fall is going to be totally ineffective.
Republican pollsters such as Robert Cahaly, John McLaughlin, and Matt Towery have been warning for months that summer's mainstream polls were simply wrong. They were a continuation of a long pattern of the propaganda media favoring Democrats.
In 1990, a liberal Detroit newspaper had John Engler 19 points behind the incumbent Democrat governor three days before the election. Engler won.
In 1994, Time Magazine had Democrats beating Republicans in the generic ballot 40 percent to 35 percent a week before the election. Then, House Republicans picked up 54 seats with the Contract with America and won their first majority in 40 years.
Part of the change comes from good campaigning. In early September 1978, I was behind the Democrat 51 percent to 37 percent (I had been campaigning for five years and previously lost twice). Seven weeks later, I won 54 percent to 46 percent. An even bigger swing occurred in 1988, when Vice President George H. W. Bush was 19 points behind Democratic Gov. Mike Dukakis in May. After a vigorous campaign communicating how liberal Dukakis was, the American people voted 54 percent to 46 percent for Bush. One-in-four Americans switched from favoring Democrats to Republicans during the campaign.
Size and scope also matter. National polls can misrepresent the electoral college, and statewide polls can obscure outcomes in congressional districts. In early October 2016, Hillary Clinton was only ahead by 3 points nationally – and she was running up huge margins in California and New York (two of our four most populous states). The media believed she would be the next president. But she didn't have the advantage in the heavily contested states (which meant she wasn't winning the electoral college).
But the propaganda media's spin can also be misleading. In October 1994, I was going into a radio interview in Boise, Idaho. On the way in, I glanced at a newspaper headline that said, "Democrats gaining in election." I spent the entire hour on radio wondering how that was possible. All our data showed us gaining ground. My longtime advisor Joe Gaylord had already told us in September that we were going to win at least 53 seats. The headline just did not make sense.
Sure enough, when the interview was over I picked up the paper. It turned out Democrats were gaining ground among people who were unlikely to vote. Republicans were widening their lead among people likely to vote.
Every August before elections, the liberal propaganda media try to make the Republican case appear hopeless. They want to demoralize donors, volunteers, and even candidates. They run polls with all Americans (or with registered voters but not likely voters). Those kinds of polls inherently overstate the Democrats and understate the Republicans.
As Rowan Scarborough of The Washington Times wrote on Sept. 26, the polls in 2020 were so bad even Pew Research Center spoke up and criticized them. According to Pew: "It's clear that national and many state estimates were not just off, but off in the same direction: They favored the Democratic candidate."
This history of bias led Elizabeth Stauffer in The Western Journal to write on Sept. 26: "Pollsters Are Terrified That They're Blowing the Midterms and Giving Democrats False Hope." She went on to report, "there is reason to believe that pollsters are once again overestimating Democrats' chances and underestimating those of the Republicans. And that has some Democrats worried they might see a repeat of the polling misses we saw in 2016 and 2020."
Citing bungled past pre-election polls for Sens. Susan Collins, Lindsey Graham, Joni Ernst, Thom Tillis and Steve Daines, Stauffer pointed to a New York Times analysis which (unsurprisingly) found, "Democratic Senate candidates are outrunning expectations in the same places where the polls overestimated Mr. Biden in 2020 and Mrs. Clinton in 2016." The New York Times also found "a 'consistent link between Democratic strength today and polling error two years ago.'"
Stauffer then pointed to RealClearPolitics' "Battle for the Senate RCP Projection," which accounts for previous polling distortions from previous elections. When you incorporate the mainstream bias against Republicans, the GOP is looking fairly strong.
Smarter mainstream pollsters will begin to realize they are out on a limb – and begin to tighten up their polls. It's already happening for some.
The difference between registered voters and likely voters was captured in the latest Washington Post/ABC news poll. This shows a Republican generic lead of only 1 percent among registered voters (but 5 percent among likely voters).
When you remember the size of the Democrats' advantage in California, our most populous state, you can see how a 5-point Republican lead nationally could translate into a huge margin in swing districts.
Here are a few more examples:
A recent CBS/YouGov poll also shows Republicans leading Democrats. But it also lists the economy as the biggest issue for voters (82 percent), followed by inflation (76 percent). While 59 percent said abortion was "very important."
The WaPo/ABC poll found 84 percent of Americans say the economy is a top concern (76 percent for inflation). Further, 74 percent of those polled said the economy was bad under Biden. Only 24 percent thought it was positive.
Finally, voters also trust Republicans more than Democrats to tackle the main issues – the economy is Republican +16, inflation is Republican +19, and Crime is Republican +14.
All this adds up to a crushing Republican advantage in the districts FiveThirtyEight considers most competitive. In fact, the edge among registered voters in those districts is 55 percent Republican to 34 percent Democrat. If you teased out the likely voters in that bloc, it probably is even more pro-Republican.
So, I don't have any questions about who is likely to win in November. But I do wonder how often the mainstream media pollsters are willing to be wrong.
https://www.gingrich360.com/2022/09/28/what-the-polls-are-telling-us-about-the-midterms/