Texas Sheriff: Open Border Is Transforming America to Marxist State
GOLIAD, Texas—Sheriffs in Texas are experiencing the impact of the border crisis in their counties every day—whether it's armed cartel operatives smuggling illegal immigrants, vehicle pursuits resulting in crashes and deaths, or drug overdose deaths from fentanyl brought across the southern border.
In Goliad, Sheriff Roy Boyd sits 200 miles from the Texas–Mexico border, between McAllen and Houston—a major transport corridor of illegal immigrants and illicit goods.
As a 29-year law enforcement veteran in the region, Boyd said he's never seen a border crisis so bad or border-related crime so egregious.
"There's no end to it," he told The Epoch Times on June 23. He monitors 16 cartel-operated sites in his county that are currently dormant, but have been used to stash illegal immigrants on their way to Houston. Currently it's mostly carloads of illegal immigrants being smuggled straight through his county to the city.
"It's a movement of individuals from third world countries, all over the place, into our country. But the farther you get into it, the more you realize it's all done by design—and it's at the design of the federal government.
"We're in a transformation of America from a free Republic to moving to something that's more of a Marxist state."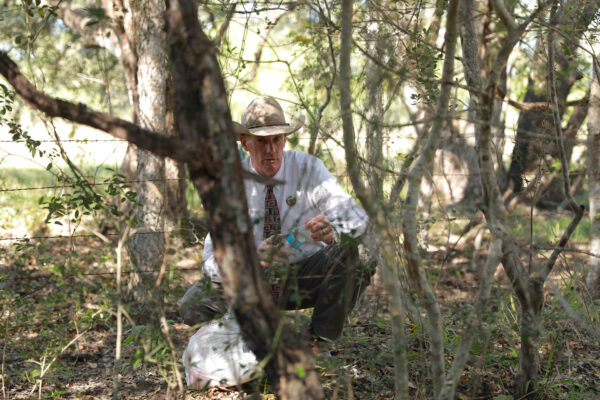 Since President Joe Biden took office in January 2021, border authorities have apprehended more than 3.2 million illegal border crossers, according to Customs and Border Protection data. An additional 800,000 or so have been detected, but evaded capture.
When asked how allowing millions of people from more than 160 countries through the southern border results in the transformation to communism, Boyd harkened back to the 1960's and President Lyndon B. Johnson's "war on poverty."
"LBJ sold the war on poverty to the Democratic National Party … and the DNC's response was, 'Why would we give those people something for nothing?'" Boyd said.
LBJ responded by saying he'd have them voting Democratic for 200 years, Boyd said, paraphrasing an infamous quote that has been widely attributed to the former president.
"This is nothing but a replication of the soft enslavement of people through entitlement," Boyd said. "Because if you understand psychology and you look at the history of things, this is how it functions. Once it starts, it's hard to stop."
Trevor Loudon, a communism expert and contributor to The Epoch Times, said in a previous interview that the communists' main enemy is the United States.
"And if you can't bring it down through nuclear weapons, you bring it down through illegal immigration, which is maybe just as effective in the long run," Loudon said.
"This is an orchestrated, communist assault on America, to destroy America's borders, to create confusion in America, to overwhelm the system politically."
Loudon said an additional 15 million to 25 million Democratic voters would ensure perpetual Democrat control of government.
"You will have a one-party state in America. And that is the plan. That is why they are doing this," he said.
"This is Marxist. This is Leninist. And this goes back to American politicians cooperating with hostile foreign powers in the destruction of America. And their No. 1 weapon is illegal immigration and overwhelming the border."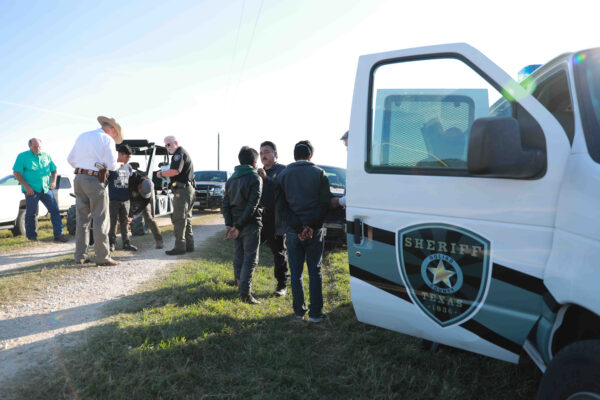 Traditionally, noncitizens have voted about 80 percent Democratic and 20 percent Republican, according to a 2014 study by Old Dominion University.
"We find that some non-citizens participate in U.S. elections, and that this participation has been large enough to change meaningful election outcomes including Electoral College votes, and Congressional elections," the study concluded.
"Non-citizen votes likely gave Senate Democrats the pivotal 60th vote needed to overcome filibusters in order to pass health care reform and other Obama administration priorities in the 111th Congress."
Now, the number of non-Hispanic illegal aliens entering the United States is increasing at the same time that Hispanics are skewing more Republican, as evidenced by Rep. Mayra Flores's recent win in south Texas.
It's illegal for non-U.S. citizens to vote in federal elections, however, for years there's been a push for municipal elections to accept noncitizen voters, including visa holders.
Loudon said Eliseo Medina, a labor union activist and former immigration consultant to President Barack Obama, is a main driver of the illegal immigration movement.
In 2009, Medina spoke at the America's Future Now progressives' conference in Washington.
"[If] we reform the immigration laws, it puts 12 million people on the path to citizenship and eventually voters," Medina said. "Can you imagine … [even] if we get 8 million new voters that care about our issue and will be voting—we will create a governing coalition for the long term, not just for an election cycle."
Fourteen municipalities currently allow noncitizens to vote, including 11 in Maryland, two in Vermont, and one in San Francisco.
A recent court ruling quashed a New York City law that would have allowed at least 800,000 noncitizens to vote in municipal elections.
New York City Mayor Eric Adams allowed the measure to become law on Jan. 9.
"I believe that New Yorkers should have a say in their government, which is why I have and will continue to support this important legislation," Adams said in a statement at the time. "I believe allowing the legislation to be enacted is by far the best choice, and look forward to bringing millions more into the democratic process."
Hans von Spakovsky, manager of the Heritage Foundation's Election Law Reform Initiative and former member of the Federal Election Commission, said allowing noncitizens to vote "cheapens and diminishes" the concept of citizenship.
"The whole point of the open borders crowd is to do two things: one, extinguish the line between legal and illegal aliens in this country. And second, to frankly get rid of the whole concept of citizenship," Spakovsky said in a previous interview.
Biden has said he wants a pathway to citizenship for all illegal immigrants in the United States.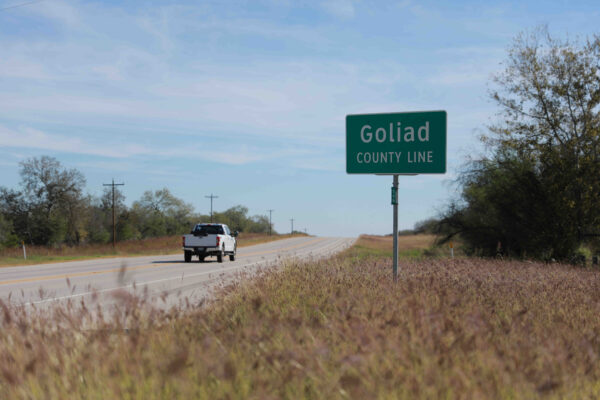 Boyd said the Biden administration is working hard to purge conservative and constitutional thinkers at the federal level and replace them with people with a socialist mindset.
"But always remember, as Stalin said, the aim of socialism is communism," Boyd said.
He said his focus remains in Goliad to protect his county and make it an unwelcoming place for criminals. The sheriffs in the region try to work together to "help each other to fight this massive wave of criminal activity," he said.
"We don't deal with immigration, we're not tasked with it, we're not authorized with it, we don't want anything to do with it.
"But we're fighting all the felonies that are being brought to our doorstep as a result of the national policy that's causing this problem. And to be quite honest with you, I have no faith in the federal government."
"My faith is in our Lord and Savior. One day we're going to meet the end and we're going to have to answer for what it is we've done, and so I want to have a good answer when I get there."
https://www.theepochtimes.com/texas-sheriff-open-border-is-transforming-america-to-marxist-state_4572533.html?utm_source=News&utm_campaign=breaking-2022-07-04-3&utm_medium=email&est=Tv3mDf7maFpRDtxV26FOW4WXEUVLj52oOJsXRfuupv%2BwJUcjqEbih03O4Yqi