Posted by
Mary Chastain
Why don't we trust the media? Let me count the ways….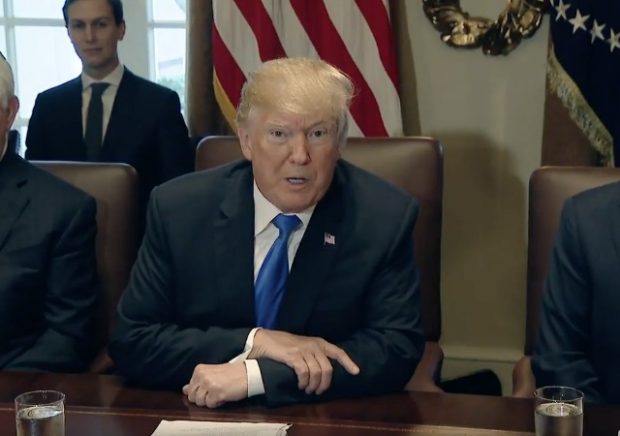 President Donald Trump's administration has decided to end special protections given to some El Salvador immigrants who came to America in 2001 after devastating earthquakes.
Now, before you get all crazy, I'm seeing outlets bury this important detail: the protections will not end until September 2019. This will give those immigrants plenty of time to work on citizenship and stay in America. It will also give Congress time to work on immigration reform.


The sound you hear are my eyes rolling to the back of my head. Again, no, this order does not mean they MUST leave and leave today or else. And the mainstream media wonders why we don't trust them.
Most headlines are not apocalyptic, but they still lead you to believe that the protections end RIGHT NOW.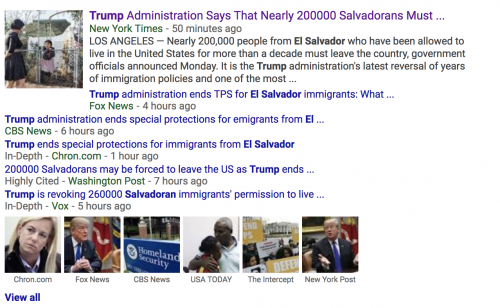 NO. The administration hasn't ended the protections. The administration WILL END the protections in September 2019.
The El Salvador immigrants received protections under the program Temporary Protected Status (TPS), which is for "nationals of other countries whose homelands suffered severe natural disasters, war or disease." The El Salvador immigrants are the largest group given protection in this program.
The 18-month transition period gives time for those affected to make arrangements to leave. Those who don't may be in the U.S. illegally and subject to deportation.

The delay until 2019 also gives Congress time to offer them an alternate legal status, as some are hoping, though passing any immigration legislation is a heavy lift.

The fate of the Salvadorans may become intertwined in other negotiations about immigration policy. Extending their temporary protections along with a restoration of a legalization program for young, undocumented immigrants sometimes known as Dreamers could be offered in exchange for curbs to the diversity visa lottery program that President Donald Trump has heavily criticized, according to a congressional aide close to the negotiations. The visa-lottery program offers the chance for green cards to people from countries that are under represented in the immigration system.
They've been here since 2001, which gave them, in my opinion, plenty of time to at least start the process of becoming a citizen if they had anyintention of staying around.
Of course, groups have lambasted the administration because I guess America should just let anyone and everyone stay here as long as they want without becoming a citizen:
Immigration advocates condemned the decision.

"The Trump Administration once again has reneged on a long-held American tradition and has added 200,000 Salvadoran families to their long list of undocumented immigrants it wishes to deport," said Angelica Salas, executive director of the Coalition for Humane Immigrant Rights.
The Mexican American Legal Defense and Educational Fund emailed this statement:
"Having been informed by Donald Trump on Saturday that he is a 'stable genius,' we all learned today that apparently the resident horses in that stable all wear blinders. There is no other explanation for Secretary of Homeland Security Kirstjen Nielsen's decision to end Temporary Protected Status (TPS) for immigrants from El Salvador. To reach such a critical decision affecting the entire nation, threatening the economy and communities, and targeting over a quarter-million long-term immigrants and their families, by considering only the continuing effects of a 2001 earthquake, without any analysis of equally dangerous conditions unrelated to the natural disaster that make return not only disruptive but life-threateningly dangerous, reflects inexcusably narrow thinking. Willful ignorance or studied neglect of these conditions are inconsistent with executive authority under the TPS program and contrary to American values. In the face of this cultivated narrow-mindedness, the Congress, with smart leadership that lives away from the Trump stable and its resident genius, must act to provide the logical and humane protections that Salvadoran TPS holders deserve."
It's been 17 years. Calm down, bro.